Say goodbye to bumps, wrinkles, and waves Edwardsville!

We are carpet repair specialists in Edwardsville, IL. Our fully qualified and experienced certified IICRC carpet technicians are expertly trained in restoring & reviving, repairing, patching, fixing, and resolving all your carpet repair needs.
High-Quality Workmanship

We pride ourselves on our high-quality workmanship. We use the latest techniques and tools to ensure that your carpets will be stretched correctly and look like new for years to come.



Local Metro East STL & Southern Illinois Service Area

Our team is available locally in Edwardsville, Illinois and St. Louis, MO for all of your carpet stretching needs. Our responsiveness and customer service are unmatched in the area.

Affordable Prices

We understand that our customers need quality services at a price they can afford. That's why we offer competitive prices so you can get the best bang for your buck!

No More Trip Hazards
Carpets Lay Flat Again guarantees that all the wrinkles and bumps in your carpets will be gone. This way, you can avoid any trip hazards caused by uneven surfaces and enjoy a safe environment for yourself and your family.
Get Professional Help
Our experienced technicians are highly trained and certified to provide you with the best carpet stretching service in the area. We will assess the situation and use our specialized tools to make sure your carpets are laid flat again in no time.
Stretching Your Floors Made Easy
Our experienced team of professionals makes sure that your carpets are stretched properly without any damage and you can go back to enjoying a smooth floor in no time!
Stretching Tools, Keep Your Floors Looking Good
Let us cut, tuck & reinforce your carpeting floor
We use professional repair tools and techniques, like a wall-to-wall carpet stretcher, to ensure that the job is done right the first time. Our experienced team of technicians will ensure that your carpets are stretched to perfection.
We use wall-to-wall power Stretchers
Using a power stretcher is the most cost-effective way to get your carpets looking like new again. We also provide free estimates, so you know exactly what you're getting into before committing to our service.
Need a Carpet Stretching Quote - Call Today 618-944-8286
STRETCHING Carpet Local Service Area

"Carpet stretching Unbeatable local services
We are proud to serve the communities of the metro-east St. Louis & Illinois cities, following cities, near me: Belleville · Edwardsville · Collinsville, Maryville · Glen Carbon · Granite City · Fairview Heights · Swansea · O'Fallon · Pontoon Beach · Godfrey · Alton · Bethalto · Roxana · Troy · Dow · Jerseyville · Grafton · Brighton · Bunker Hill · New Douglas · Shipman · Cahokia · Columbia · Highland · Greenville · Marine · Caseyville · St. Jacob · Alhambra · Pocahontas · Shiloh · Hamel · Mascoutah · Holiday Shores · Freeburg · Bethalto · Smithton · Wood River · Millstadt · Brighton · Dupo · Waterloo · Bunker Hill · Lebanon · Trenton · New Baden · Staunton, also the surrounding areas of St. Clair County and Madison County of Illinois and St Louis MO.
Make Your Flooring Lay Flat Again!

Carpeted flooring can lay flat again, XTREME provides professional carpet stretching services near Edwardsville, Illinois so you can enjoy the comfort and beauty of your carpets without any wrinkles or bumps. We make floors flat again!
Bring Your Soft Floors Back to Life

Welcome to XTREME, the best carpet stretching service in St. Louis Metro East, IL area! Our professional team of experts use the latest techniques and equipment to provide quality, affordable carpet stretching for all your carpeted floors. Let us bring your carpets back to life.
Local Experts at Your Service

At X-TREME we are proud to be a locally-owned and operated business in Madison County, IL. We are right in the heart of Edwardsville, Glen Carbon & Maryville communities and serve everyone from Collinsville High School sports teams to my grandma's dance class in Belleville in St. Clair County.

State-of-the-Art Equipment & Techniques

Our team only uses the latest and most reliable techniques and equipment when stretching your carpets so that you can have peace of mind knowing that your carpets are safe with us. We ensure that every job is done correctly the first time so you don't have to worry about any problems down the road.

Affordable Prices & Quality Results
At X-TREME we believe in providing our customers with quality services at an affordable price. We strive to provide excellent customer service for each one of our clients.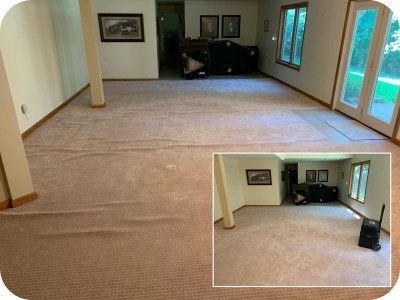 Carpet stretching Service Near Edwardsville, Illinois 62025, 62026